A recruitment agency specialising in childcare and education has gone to the top of the class after switching to a state-of-the-art cloud-based telephone system from Worcestershire firm Armstrong Bell.
Eyears, whose head office is in Birmingham, provides jobs for nursery staff, teachers, supply teachers and classroom assistants up to key stage 2.
With network hubs in Manchester, Coventry, Southampton, Portsmouth, Wolverhampton, Bristol, Liverpool, Nottingham and Milton Keynes, the company makes thousands of telephone calls a day.
But its old telephone system was letting it down, says Martin Bove, Managing Director.
"Our business is almost entirely call based," he said. "We make thousands of calls every single day. If calls can't come in to us our customers will just call a competitor. Quite simply, if we can't make and receive calls we can't do business – if we go down, it's completely disabling because we are a niche industry."
Martin and his team had experienced myriad problems with their previous telecommunications supplier, which had changed its hosting platform about four times in four years, yet was still unreliable, often breaking down.
"We were having so many issues before," he said. "It would come in waves; it would start off with small ripples where we'd be down for a few minutes at a time to a full on tsunami where we'd be down for a day at a time!
"If we go down, we have around 3,000 people we have to notify. You quickly lose credibility if that happens frequently."
After contacting Armstrong Bell, its experts visited the site to establish exactly what Eyears' needs were.
After carefully examining how the business works, the telephone experts recommended 'Venture', the latest generation of hosted Cloud-based systems, which works via a highly resilient platform with multiple redundancy.
A premium hosted IP telephony service, Venture has a wide range of features and benefits, including call park, pick-up and group calls, caller ID and anonymous caller blocking, automatic call back, do not disturb, programmable quick dial numbers, call groups, call and voicemail notification, forwarding by email and SMS, music on hold, and desktop CTI integration.
Another bonus for Eyears is that the all-inclusive costing means the telephone system comes with a flat licence. This means that everything – including voicemail, voice recording, phone data reports, and call forwarding – is included in the price.
The recruitment company was impressed and ordered 'Venture' to be installed on 25 existing handsets.
There were two challenges for Armstrong Bell: installing it on existing handsets requires extra time and care, and every hub had to have its own telephone number, which meant its installation team had to port the existing handsets over, ensuring that any down time was kept to an absolute minimum.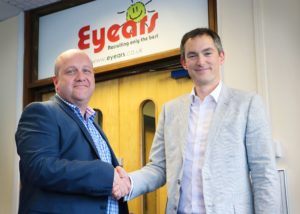 The team went in during the February half term, installed the system quickly and then provided full training to the Eyears team. The staff are now confident that as long as the business has internet access, the telephones will work.
"The difference with Armstrong Bell is that the team works to find a positive solution rather than looking to blame someone else," said Martin.
"We're glad to be in a position now where we have confidence in their services. We also like the fact that if you do need to call into the office for anything, you will get to speak with someone on the end of the phone who actually knows who you are, what your business does and what system you have in place. When you choose a larger supplier, you just become a number to them."
Will Copley, Managing Director of Armstrong Bell, said Eyears had lost so much confidence in its previous supplier that the company was nervous about the wholesale change.
"When we were first approached by Martin and the team at Eyears, they'd really lost faith in their supplier and wanted reassurance that we would not let them down," he said.
"One of the things we pride ourselves on at Armstrong Bell is being proactive in working with other suppliers – we are happy to run diagnostics and try to find a solution. Our team provided exactly the right system for the business and our thorough training and aftercare service means that should any issues arise, Martin and the team at Eyears know they can contact us and get to speak to someone who really understands the business."
For information about Armstrong Bell visit Armstrong Bell.