If you're relatively new to shooting, then there's going to come a point when you decide that you want to have your own gun, rather than relying on a loan. So here's our guide to what you need to know before you start shopping.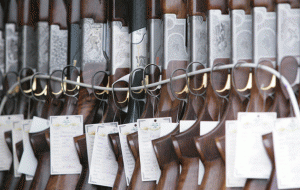 Apply for your shotgun certificate in plenty of time. Depending on where you live in the country it could take weeks or months to arrive.
A reputable dealer will reserve your gun for you while you're waiting for your certificate.
Buy your first gun from a recommended gun shop – you'll get solid advice.
Tell the gun shop what sort of shooting you plan on doing and how frequently.
Work out a budget before you go shopping.
Expect a good dealer to check you for gun fit.

1.  Do you need to heat your gun cabinets in winter? If the temperature is plummeting outside will your guns…

Always try a gun out for fit.
Wear the clothes you plan on shooting in when you're being fitted for a gun. There's a big difference in fit when you wear a bulky jacket compared to a light shirt.
If you decide to buy a gun privately, take an experienced shooter with you to check it over carefully.
Second-hand guns can be a good buy, but avoid those not currently imported or in production as you will struggle to find spares.
You will need to install a solid, lockable gun cabinet at home to keep your guns legally.
A shotgun or firearm certificate doesn't limit the amount of guns you can own but the police must be kept aware of every purchase you make.
Don't look at guns for sale ads until you have a good idea of what you need.
It's not compulsory to have insurance whilst you are shooting but public liability cover is definitely recommended. Many shooting organisations, including BASC, offer insurance as part of their membership benefits.
Make sure you are up to date with shooting safety and know how to behave responsibly out in the field.
Our advice is not to rush into anything. Take your time, be patient and seek out the best advice. You never forget your first gun so make sure it makes some happy memories for you.
The post 15 things to know when buying your first gun appeared first on Luxury Leather Gifts.
Source: Luxury Leather