Shim Washers Stainless Steel – What are they?
When it comes to engines or other comparable devices, one problem that can arise with many people, is excess space or small gaps between two components. Although it does not seem a huge issue, these small spaces can often compromise the effectiveness of the mechanism, causing wear and erosion from unnecessary direct contact between two parts, as well as buzzing and vibration. These issues can often lead to parts having to be replaced more often, or indeed the device itself having a much shorter lifespan than normal.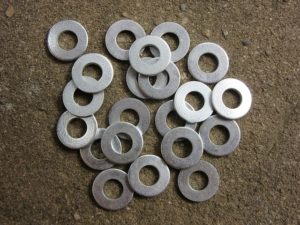 A simple and convenient solution to this problem is a shim washer, sometimes referred to as a support washer. Commonly used to fill excess gaps, shim washers remove the gaps to prevent damage of a device. Once a shim washer fills the gap, you will notice a significant reduction in the movement between the two components. Shim washers can lengthen the lifespan of a machine, and also provide a little more ease for the owner, knowing that nothing is untoward.
Specialists with extensive knowledge
Here at Stephens Gaskets we specialise in shim washers stainless steel and are more than happy to offer our extensive knowledge and experience in the industry to help you find a type of washer that will fit your needs. Our shims have proven to be the perfect solution to taking up those excess gaps in a mechanism when required.
As experienced manufacturers of shim washers UK and worldwide, Stephens Gaskets is proud to provide you with a wide variety of products. All of which are available to purchase in a number of different gauges and thicknesses.
Stephens Gaskets offer shim washers made from stainless steel to provide your device with the utmost quality protection when absorbing the friction and tolerances between the two different components. Discovered in the early 1900's stainless steel has proved to be extremely popular and a number one choice material for many different applications. Where ordinary steel can easily corrode and rust, stainless steel has a much higher tolerance, making it an ideal material for a washer.
Meeting your specific requirements
We supply all popular and even the not so popular types of stainless steel shim washers, but if there is a particular type you need to suit your own specific needs, we are very happy to offer you a customised solution, delivering a unique product to meet your specific requirements.
So, if you require exceptional service from an experienced shim washers manufacturer, visit our website for further information.