Pumped Screed
Most people do not realise how important pumped screed is to ensure safe, secure, high-performance flooring which is heavy duty and can withstand the harshest of winters and the driest of summers. Cementitious pump screeds can also be effective enough to be a safe base for the toughest of road vehicles.
High performance
At PSC, we have a duty to our customers to ensure they have a high performance, heavy duty flooring, and this is what pumped screed and cementitious flooring can achieve. The cementitious screed is rolled out in layers of thickness of about 6mm-20mm and in quantities covering 2,000 square metres a day.  So screed pumps are thick, fast and effective.  
Ideal for makeovers
Not only used for new building projects, they are ideal for giving a makeover to damaged floors on existing facilities. The job of using screed pumps takes very little time and as cementitious screed is quick drying, people can start to walk on the floor within just a few hours of it being laid. Heavy duty flooring for vehicle traffic can be working within 24 hours.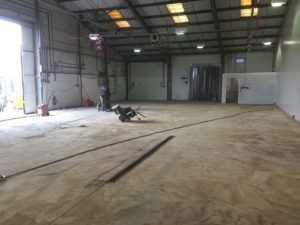 Cementitious flooring
The system that PSC uses is particularly good for renovating old or damaged floors in the fastest time possible.  Indeed, pump screeds provide a fast-track, heavy duty flooring solution that can be used in pretty much all locations, from warehousing and food processing to engineering facilities and manufacturing.
A good example of PSC cementitious pump screeds laid as a heavy duty flooring is at our customer's plant at Trowbridge in Wiltshire. The customer had grown out of its previous plant, needing to relocate to a larger facility. It decided on a new location which was extremely dilapidated, requiring extensive renovations, which included a 8,000-square-metre flooring.
Durable and hard wearing
The floor was uneven and unsafe and would not be able to withstand heavy duty forklift traffic. The customer wanted a pumped screed flooring immediately, so we set to task with a 7mm heavy duty cementitious screed. This was laid over about 2,000-square metres a day. The cementitious flooring project took a month of work and what resulted was a durable, hard wearing surface that will now be able to be used for years to come.
Get in touch
For unbeatable prices and products and excellent service, contact Protective Surface Coatings for all your industrial flooring requirements. To find out more, please visit our website at Protective Surface Coatings Ltd or contact us directly:
Tel: 01562 750999
Fax: 01562 750988
Email: us@protectivesurfacecoatings.co.uk
If you enjoyed reading this article you may also like to read our previous post on cementitious pump screed.