When it's pigeon season, you'll be looking for some new ways to serve up the woodies. Here's a recipe for Pigeon Wellington that's perfect for a dinner party because it's impressive but relatively simple to prepare, taking just 20 minutes. As in a traditional Wellington, the meat comes wrapped in pastry – but instead of making it you use sheets of ready-made filo pastry, which is readily available in most supermarkets. Serves 1 (increase quantities as needed).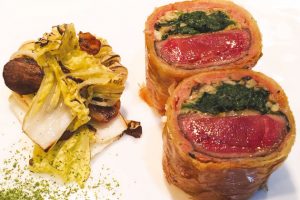 Ingredients
30g spinach
salt and pepper
30g chanterelle mushrooms, cleaned
1 knob of butter
1 spritz of lemon juice
1 pigeon breast
1 slice of Parma ham
1 sheet of filo pastry
1 egg yolk, beaten
 Method
Heat the oven to 180ºC.
Blanch the spinach in boiling, salted water, drain, leave to cool and season well.
Cook the chanterelles, finishing with butter, salt, pepper and lemon juice. Leave to cool.
Seal the pigeon breast on both sides in a smoking hot pan, this should take seconds. Put on a resting rack, leave to cool and season well.
Place the spinach on top of the pigeon breast and the mushrooms on top of that.
Roll the layered pigeon in the sheet of Parma ham.
Fold the filo pastry to the size of the pigeon breast, just slightly longer. Egg wash the pastry lightly, place the Parma-ham wrapped pigeon onto the filo and roll up.
Season well and place into a hot pan for four minutes, colouring on the two shorter sides and the bottom.
Place the un-coloured side onto the pan, then put the pan in the oven for 2 minutes at 180°C. Turn over and cook for another 2 minutes.
Once cooked, allow to rest for 3 minutes before serving.
This recipe comes courtesy of Anton Piotrowski who is chef at the
Treby Arms
. It is included in the ChariTable Bookings Signature Dish recipe book.
Chari
Table
Bookings is a philanthropic restaurant booking platform that raises funds for UK registered charities with no cost to you. When making a booking through ChariTable bookings 
£1 for every diner will be donated to a charity of your choice.
 Many well-known restaurants throughout the UK have signed up and you can find out more here. 
The post A recipe for Pigeon Wellington appeared first on Luxury Leather Gifts.
Source: Luxury Leather