Matt Clark joins a group lesson at the Oxford Gun Company and picks up some top tips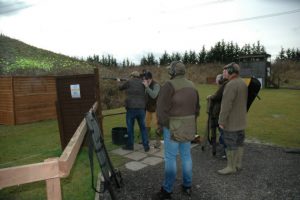 Of course there are those of us who have been shooting most of our lives and possibly think we know all there is to know about shooting. Meeting Doug Florent, owner of The Oxford Gun Company where I'd gone for a day of tuition, he soon disabused me of this notion. "You always benefit from training in any sport. Look at the tennis player, Andy Murray, he is at the top of his game, but he plays even better when he has a good coach."
My coach for the day was Patrick Thick, a fresh-faced 22 year-old who is already a shooting champion. There was a group of six of us with differing amounts of shooting experience. Patrick tells us that 80 per cent of the targets on a clay course are easy. "Nail those and you will improve your score." It all depends on your definition of easy.
Clay pigeon shooting lesson equals instant improvement
We started on incoming targets and Patrick already spots a problem with Seamus, the first shooter. The extension pad was making his stock too long, especially as he was wearing a thick coat.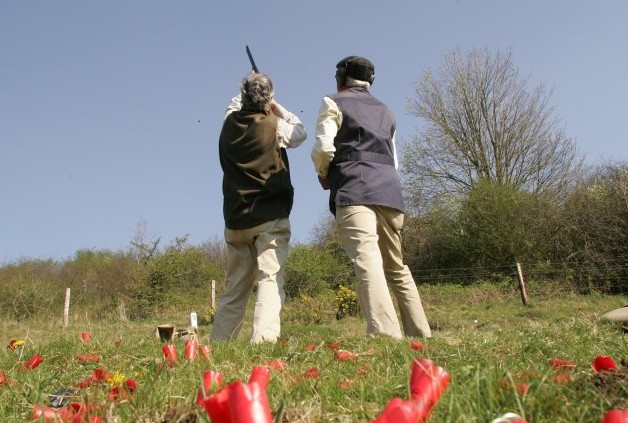 Learn how to hit more targets by understanding the physics of clay pigeon shooting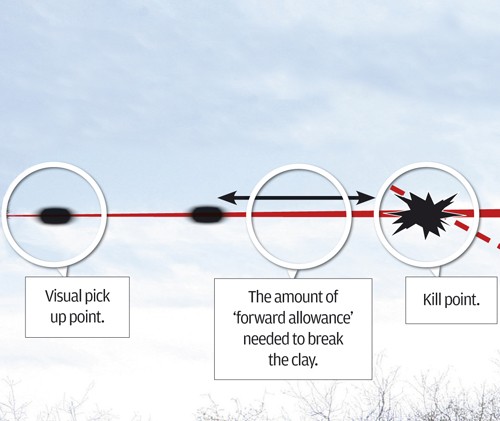 Understand the jargon heard on the clay shooting ground with Mark Russell's tips for shooting beginners
Another problem Patrick spotted with Seamus was "see-sawing". This means that Seamus moved his barrels so that they obscured the clay. Losing sight of the target means that everything feels as if it's speeding up and so you rush the shot. "You've got to create a link with the target by having your eye on the target all the time," says Patrick. When those problems were sorted, Seamus was transformed into a good Shot in a matter of minutes.
Then it was my turn. Patrick sorts out my stance. I know that most of your weight should be on the leading foot when taking a shot, but Patrick noticed I was shifting my weight onto the rear foot as I shot the incoming clay. I wasn't aware I was doing this, which proves the value of a lesson. To remedy this, Patrick suggested I lift the heel of my trailing leg to ensure that I didn't rock back on it.
Getting ahead
The next lesson is lead. The targets used for this was a left to right crosser and the rabbit, a target many struggle with. "Everyone sees lead completely differently," says Patrick. "You might say you gave a target 5 foot of lead and another shooter would say he gave 10 foot of lead. They are both right. Everyone sees lead in a different way. You see a distance and put a number on it and use that as your scale."
As for rabbits, he also has a useful crib for that as well. "Shoot underneath the target. With luck your shot will be deflected by the ground and break the clay. Also a lot of shooters will miss over the top of them." It worked. My fear of rabbits evaporated with every clay smashed.
High driven clays
We then moved onto another feared 
target – high driven clays. "You've got to swing through the target," says Patrick. 
I knew that, I thought, but then I didn't do it. Instead I picked the target up late and tried to maintain lead. "Think bum, belly, beak, bang," he said. This describes the barrels swinging through the target, keeping your eye on the clay all the time. "Pull the trigger when you are in front of the target. It feels as if you are shooting into fresh air, but you'll see the clay break." He was right. I swung through the target and pulled the trigger and it was pulverised. "That's what's called catching choke," says Patrick.
A member of our group, Stephen, was having difficulty with crossers going away – as were we all – and asked whether he should start gun-up. Patrick's answer was yes; if you think you are going to be rushed.
Advantage to a group
The cost of a group lesson at Oxford Gun Company is £149 plus VAT per person for a day, which includes cartridges, clays and a pub lunch. Group numbers are round six people.
The advantage of having a group clay pigeon shooting lesson is that you benefit from the questions of others, and learn from each other's mistakes. You also have a good laugh. However, it means that Patrick, the instructor, has to work hard. "You've got to find several different styles to explain something. However, when you get that moment when something clicks with one of the shooters in your group that is very rewarding."
The post A useful clay pigeon shooting lesson appeared first on Luxury Leather Gifts.
Source: Luxury Leather