If you're after a smaller SUV with a classy interior, look no further than the new Audi Q2, recommends Charles Rangeley-Wilson, even if he did drive it in disguise.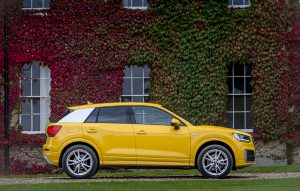 When Audi recently launched the Q2, the latest and smallest in its Russian-doll line-up of Q cars,
I was immediately intrigued by the idea of a junior SUV, something the size of the original Subaru Forester, but with Audi's classy cockpit and styling pizzazz.
I've long been a fan of the lumberjack Scooby, although cockpit ambience and styling were perhaps not highest on its long list of attributes. However, Audi making a genuinely compact occasional off-roader suggested a car of niche usefulness when the general entropy among all such machines is for them to get bigger with each successive incarnation.
From the Cold War Lada 4×4 to the now insanely popular Skoda Yeti, there's always been a buoyant demand for small, rurally inclined motors, although all thus far have been aimed at the more basic end of the market. Perhaps that's the nature of the beast: a runabout for hay and dogs needn't be too classy up front, yet with Range Rovers and Q7s as latter-day carriages of distinction, surely there's room for a compact version?
Indeed, there may well be a specification of the new Q2 that would fit that bill (basic SE with 16in wheels and a sober colour?), but the moment I clapped eyes on the almost solar yellow of the Q2 delivered to my house in north Norfolk, I knew I was going to have to drive it straight back to London—to review the machine in its home terrain, but also so that no one I knew saw me driving it. At the age of 52, pottering about rural Norfolk in this car would have announced a midlife crisis more than a gym subscription and teeth whitening.
The niche Audi has aimed for and hit squarely with the Q2—especially the bling-ring model they delivered to me—is not exactly rural. This Audi is aimed at computer-savvy, digital natives who spend 99% of their time on tarmac in a city, but might occasionally want to drive over someone's lawn, so they can plug the car into the swimming-pool stereo (the word stereo probably dates me, too).
The Q2 is a youthful, urban-oriented machine. It's like driving a computer to kick off with, a car not built for hay-and-muck natives. The Technology Pack with which my Q2 was fitted (a £1,595 option) equips the car with a 4G SIM card and online connection to live traffic information, Google Earth and Street View, Twitter and email. The car also has Apple Carplay, so you can hook up your playlists to the car's gramophone.
Audi's virtual cockpit provides a customisable dashboard, placing the satnav map right there in front of your eyeballs, signalling every nuance in the road ahead.
By the outskirts of London, I'd fallen for the charms of this off-road computer, not just because the Street View is really cool, the Bang & Olufsen sound system a veritable concert hall, the cockpit as classy and cosseting as any other Audi, but, most of all, because of how well it drove. The 1.4TFSi petrol engine of the test car, which, at 148bhp, I suspected might be a bit wheezy and gruff when pressed, was smooth and had oomph a-plenty.
The S tronic gearbox was great, too, taut and accurate, and the handling was skateboard flat without being uncomfortably fidgety, as often happens when a top-heavy SUV is tamed by firm suspension. Interior space is good, too: there's room for an adult behind the driver's seat and the boot is hatchback-plus spacey. Audi says the dimensions are comparable to its A3, but it feels bigger on the inside, even if, from the outside, it looks like a pumped-up hatchback in a tight T-shirt.
As a practical, compact SUV, the Q2 is more penthouse than paddock, but it's a very neat machine. I had the car for a week in all and had to return to Norfolk eventually, where, with a cap pulled down hard over my forehead, I thoroughly enjoyed driving it.
On the road: Audi Q2 1.4 TFSi S-Line S Tronic
Priced: From £27,730
Annual Road Fund Licence: £0
Combined fuel consumption: 54.3mpg
Power: 148bhp
0–60mph: 8.5sec
Top speed: 131mph
To view the original version of this post please click here.
The post Audi Q2 1.4 TFSi S-Line S Tronic review: 'more penthouse than paddock' appeared first on Luxury Leather Gifts.
Source: Luxury Leather