The simplest way to infuse colour, pattern and texture into your bedroom.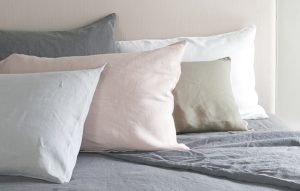 On the right lines
Panama-stripe duvet cover, from £119 for a single size, in 100% cotton
Lexington (0046 8 54 55 58 60; www.lexingtoncompany.com)
---
Whiter than white
Snowflake double duvet cover, £342, and Waves king-size flat sheet, £101, both embroidered on 300-
thread-count Egyptian sateen cotton
Peter Reed (01282 616069; www.peterreed.com)
---
Horticultural heaven
Botanist double duvet cover, £120, and Oxford pillowcase pair, £40, in 100% cotton
Christy (0845 758 5252; www.christy.co.uk)
---
The lure of linen
Lazy Linen double bundle, including two pillowcases, duvet cover and fitted sheet, all in Belgian linen, £245
Loaf (0845 468 0697; www.loaf.com)
---
Luxury linen
The new, relocated Monogrammed Linen Shop at 158, Walton Street, London SW3, is also the flagship store for luxury French bed-linen brand Yves Delorme. Expect two floors of luxury bedding, including Roma, shown here, from £325 for a double duvet cover made from 500-thread-count cotton percale
Yves Delorme (0808 234 4609; uk.yvesdelorme.com)
---
True blue
Astor Denim double-duvet cover, £120, and pillowcases, from £25 each, in 400-thread-count cotton with embroidered detail in denim-blue tones
Designers Guild (020–7351 5775; www.designersguild.com)
To view the original version of this post please click here.
The post Beautiful bedding ideas for a luxurious night's sleep appeared first on Luxury Leather Gifts.
Source: Luxury Leather