Here at Computer Services Worcestershire we have for the last 20 years specialised in training  for Microsoft Office modules for all levels of abilities in all market sectors.
The key Microsoft Office modules we offer computer training in include Excel training in Worcestershire, Excel training in Warwickshire Excel training in Herefordshire, Excel training in Gloucestershire and Office 365 training including
Word training
Access training
PowerPoint training
Microsoft Project training
Outlook training
Office 365 training
Our clients in Worcestershire are located in Redditch, Bromsgrove, Evesham, Worcester, Drakes Broughton, Hartlebury and other towns across the county.
We regularly post hints and tips to complement our Excel training and these can be found on https://www.jplcomputer.co.uk/hints-and-tips/
At Computer Services Worcestershire we offer courses from basic to master class.
For Excel training in Worcestershire see https://www.jplcomputer.co.uk/microsoft-excel-training.html
We offer Excel training in Worcestershire on our site in Redditch but deliver most of our Computer Services Worcestershire courses on clients sites. For Excel training Worcestershire alone we have trained over 400 people on courses ranging from individual training to groups of 10.Customers receive a set of course notes, exercises to complete during and after the course and a certificate upon completion.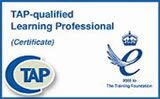 Our accreditations include being a member of the British Computer Society, TAP qualified and having reached the PTLLS status for adult learning.
Some comments from recent clients include
"I just wanted to say many thanks for really interesting, practical and fun training today. I thoroughly enjoyed myself and actually could have kept learning, it was really engaging. I shall be practising again this weekend – can't wait till Monday! Surely a sign of igniting a trainees desire to learn and become competent".
"Brilliant Teacher, great explanations. Best part of the course: the exercises".
"Very good, very enjoyable. Best part of the course: SUMIF".
"Brilliant course, notes really useful. Best part of the course: learning shortcuts to do tasks previously taken ages! All of it!"
"Best part of the course: certain aspects e.g. SUM, totalling, which can be used in my job often".
For more information on any Excel training in Worcestershire we run please contact us on johnlegge@jplcomputer.co.uk or phone 07903 840105
The post Computer Services Worcestershire – Microsoft Office training for all levels appeared first on JPL Computer Services.
Source: JPL