Beautiful flowers for your big day.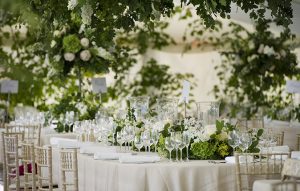 McQueens
Best for innovative, contemporary arrangements, McQueens is the florist of choice for Claridge's and The Berkeley.
(www.mcqueens.co.uk; 020–7251 5505)
---
Tattie Rose Flowers
Dorset-based Tattie Rose Flowers creates wild and romantic displays using lots of lush foliage.
(www.tattieroseflowers.co.uk; 07775 577069)
---
Aesme
Aesme sticks to an old-fashioned aesthetic inspired by the history of the English garden.
(www.aesme.co.uk; 020–8741 3543)
---
Vervain
Whimsical designs with 'bending stems and curling petals' made with flowers grown at the Worcestershire nursery.
(www.vervainflowers.co.uk)
---
By Appointment Only Design
Known for going beyond the brief, starting by considering the look, smell and feel of any room the company decorates.
(www.byappointmentonlydesign.com; 020–7486 7870)
---
Paula Rooney
Paula brings more than 20 years of experience to her grand and luxurious designs, often inspired by her travels.
(www.paularooney.co.uk; 01256 769039)
---
Willow Crossley
These free-flowing arrangements are made with local flowers and foliage from Willow's garden.
(www.willowcrossley.com; 07766 006894)
---
Paul Hawkins
Clients including The Queen, Vivienne Westwood and the National Trust have all fallen for Paul's elegant arrangements.
(08708 502721; www.paulhawkinsflowers.co.uk)
---
Shane Connolly & Co
Artistic director of flowers at the wedding of The Duke and Duchess of Cambridge, Shane strives to create meaningful displays using seasonal and sustainable plants.
(www.shaneconnolly.co.uk; 020–8964 4398)
---
The Garden Gate Flower Company
Florists Becca and Maz use organically grown flowers from their Cornish farm.
(www.thegardengateflowercompany.co.uk; 07427 686558)
To view the original version of this post please click here.
The post Country Life Top 10: Fabulous florists appeared first on Luxury Leather Gifts.

Source: Luxury Leather