When it c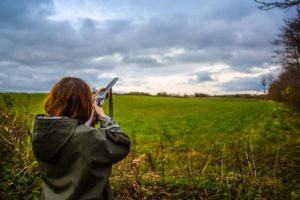 omes to hunt day, women aren't worrying about their aim. Instead, there's the familiar dilemma that has long plagued women in the field: What to wear that is both functional and feminine? Outdoor gear that fits that description makes for much tougher quarry than a high count. So what is important when it's time to hunt in country style?
Country Style Coats
Essential for the colder weather, your coat is what will fetch all the attention as it's the final layer. Barbour and Alan Paine coats are firm favourites amongst the country scene, made from quality, purpose built materials that do the job but do it perfect country style. Keeping warm and dry is essential, so whether you select washable tweed or a lightweight waterproof, when it comes to hunt day style practical is just as important as pretty.
Country Style Boots
Again, boots are going to finish your look off beautifully and are essential to any female hunter. They must be comfy for long days; however, they must also draw attention from all angles, giving that perfectly polished look. Versatility and style join forces in popular brands like Barbour, Hunter and Le Chemeau to present you with stunning leather boots or waterproof wellies that will take you through the entire season and probably many more.
Country Style Belts
Now lets pay attention to the finer detail, particularly your choice of belt. Though it won't be on display for the entire day, it's important that when it is shown off it is in accordance with the rest of your country style. Leather belts are the usual choice as they are timeless classics that last a lifetime. Our beautiful plaited leather belt with solid brass buckle is the perfect choice, handcrafted and completely unique.
Country Style Bags
There are a number of bags you can take on your hunt with you, depending on how much you need to carry. Examples would be cartridge bags, game bags and wet packs. Seen as an accessory rather than an item of clothing, these charming pieces will finish off your outfit effortlessly. Choose from our incredible collection of luxury bags to add the finishing touches to the perfect country style.
If you would like help choosing the right luxury leather treat do not hesitate to contact us today.
You may also like to read our recent article on the history of airguns.
The post Dressed to Kill | Hunt in Country Style appeared first on Luxury Leather Gifts.

Source: Luxury Leather