There are dozens of uses for edible flowers – here are some particularly pretty ones to try.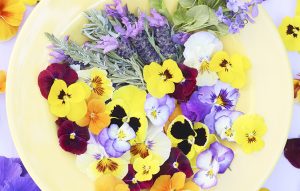 Borage (Borago officinalis)
Use fresh in salad, with meat and fish dishes or in drinks
---

Pansies (Viola tricolor and hybrids)
As well as fresh in salad, use to decorate puddings and cakes
---

Nasturtium (Tropaeolum majus)
Either fresh in salad or to garnish pasta
---
Roses (Rosa species, hybrids and cultivars, especially those sweetly scented)
Use fresh in salad and to decorate cakes, also for jam and crystallising or to flavour syrups and drinks
---
Common marigolds (Calendula officinalis)
Use fresh, dried or preserved in oil or vinegar, in salads, soups, sautées, stews, puddings and cakes
---
Primroses and cowslips (Primula vulgarise, P. veris and cultivars)
Use fresh or crystallised
---
Lady's smock or cuckoo flower (Cardamine pratensis)
Excellent in salads and as a garnish for delicately flavoured white dish doe an intense hit of watercress and capers
---

Courgette (Cucurbita pepo var. cylindrica)
Batter and deep-fry the bloom. Generous chefs use female flowers, complete with the delicious baby marrows
---
Wild garlic or damson (Allium ursinum)
Lends a sweet garlicky pungency to salads, herby butter and soft cheese, soups, lamb and venison
---
Elder (Sambucus nigra)
For cordials, wine and jelly. The whole inflorescence can also be coated in batter and lightly deep-friend to make a lacy fritter, served powdered with icing sugar or dipped in chilli sauce
---

Lavender (Lavandula angustifolia)
Use the flower spikes to flavour sugar, honey and vinegar or serve with roasted meat. Scatter fresh, individual flowers in a buttery sponge cake, as with caraway seeds


---
Thyme (Thymus)
Flower spikes of all garden kinds of thyme enliven salads and are a superb garnish for grilled meat and trout
---
Daylily (Hemerocallis)
A vibrant addition to stir-fries, Chinese-style soups and salads, tasting mildly of radish and green beans (use sparingly until sure they agree with you)
---
Bergamot (Monarda didyma)
Brightens rice, pasta and poultry dishes. Also makes an uplifting tisane, fresh or dried
---
Carnations and pinks (Dianthus)
Fresh or preserved in salad, to decorate cakes and puddings and to flavour sugar, oil and vinegar
---
For a wider selection and further guidance, visit the RHS website: www.rhs.org.uk/advice
The post Edible flowers: 15 beautiful blooms that really are good enough to eat appeared first on Luxury Leather Gifts.

Source: Luxury Leather