The Tory Grandee talks to Patrick Galbraith, editor of Shooting Times, about big bags, raptors and the sort of dog he'd like to be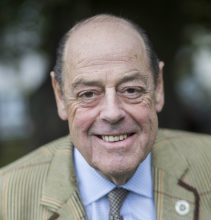 Sir Nicholas Soames reaches into his pocket and pulls out a box of matches. I wait for the cigar to follow. It would suit him, sitting there, statesmanlike in a dark blue double-breasted suit. Instead, he lights a scented candle on the table, leans back in his chair, and says: "I have fond memories of hunting on a donkey."
Those, the Tory grandee muses, are possibly his earliest recollections of time spent in the field. Though he does recall standing in a grouse butt with his father "somewhere in Scotland" when he was very small.
A perfect day's sport
During the course of our conversation, we return to the topic of grouse again and again. Each time the word is mentioned, a gentle smile breaks out across Sir Nicholas's kindly wrinkled face. "A big driven shoot on the moor is my Valhalla," he declares when I ask him what his idea of a perfect day's sport would be. But he adds that it's a "bloody hard question".
I tell Sir Nicholas that a week at Shooting Times seldom goes by without us receiving at least one letter from an outraged reader about the "grotesque trend", as one memorably put it, "for bigger and bigger bags".
"You have to look at the situation," Sir Nicholas reasons. "If a fellow's grouse numbers are collapsing and he shoots a 350 brace day, he'd have to be mad. But it's a harvest. To shoot that sort of bag sustainably you need a very good team of Guns, a very good team of keepers and a lot of grouse. There's nothing wrong with that."
Worst shot on the Tory benches?
I try to cut in with my next question but it seems that I must wait for Sir Nicholas to finish: "Of course, I've had a lot of fun over the years, wandering a hedgerow with a dog, returning with perhaps just a pheasant. In fact, those are some of my happiest memories."
Moving from the idyllic to the awful, I ask Sir Nicholas who is the worst shot on the Tory benches? He laughs and says: "I've never mixed sport and politics. I mean, I've enjoyed shooting with [Tory MPs] Richard Benyon and Henry Bellingham over the years, but one of the reasons I've lasted in Westminster, for the past three decades, is precisely because I've had a life outside politics and that to a large extent, has been shooting."
For every politician who freely admits to enjoying a day in their breeks with a gun on their arm, there are many more who would regard being outed as a shooting man to be a disaster. How bad is the public's perception of fieldsports is and how well we are doing at changing it?
Sir Nicholas reflects on the brilliant work that BASC, the Countryside Alliance and particularly the Game & Wildlife Conservation Trust do in communicating the good shooting does, but he believes that the trouble lies with "the participants themselves". Everyone who shoots, Sir Nicholas cautions, must start doing their bit for the future of our sport or the outlook could be bleak.
Promoting game meat
He is at pains to stress the importance of the industry promoting game meat to those who wouldn't usually eat it as part of answering questions about what happens to the quarry on big bird days. "I know it's delicious. You know it's delicious, but the reality is that most people don't," he stresses, and he becomes rather wistful as he recalls a "venison shepherd's pie" he had eaten the previous week. "It was the most delicious thing — gillie's pie my mother called it."
This brings us to discussing food poverty, an important topic in a country where almost 8million people struggle to put meals on the table. Could game be the answer?
"Absolutely," says Sir Nicholas, before adding, with a tone of challenge in his voice: "People have tried various initiatives before but, as you know, none of them have been that successful. What you really need to do is get healthcare professionals on side to articulate the nutritional benefits."
Raptor control
If I was in public office, I suspect I might duck any questions on raptor control —most people would. But not so Sir Nicholas. When I suggest that politicians need to speak more openly about the effect that some of the country's raptors are having on biodiversity, he responds: "The problem is hysteria. It's a position we need to move away from." There is a real sense that Soames puts conviction and common sense above pandering to public opinion.
I end the interview with a question I have been mulling over since we shook hands. If you were a dog Sir Nicholas, I ask, what sort of dog would you be? Soames rubs his temples a while, apparently grappling with the lofty question, before answering firmly: "A dachshund, I would be a dachshund. My wife has one. It's marvellous to watch it lolloping through the heather with its bottom bouncing up in the air."
I try hard not to think of Sir Nicholas lolloping similarly.
Sir Nicholas Soames' CV
Conservative MP for Mid Sussex,first elected to Parliament in 1983
Grandson of Winston Churchill
Minister of State for the Armed Forces, 1994-1997
Parliamentary secretary at the Ministry of Agriculture, Fisheries and Food, 1992-1994
The post Interview with Sir Nicholas Soames, Conservative MP for Mid Sussex appeared first on Luxury Leather Gifts.

Source: Luxury Leather