An artwork by the late Jean-Michel Basquiat has become the sixth most expensive painting ever sold at auction.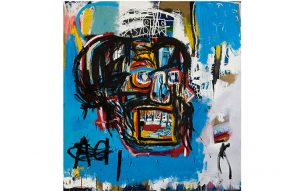 Basquiat was 21 years old and still a relative unknown when he painted 'Untitled', which sold at Sotheby's in New York.
The work had been in a private collection and almost never seen for over 30 years until it came to auction, when a frenzied ten-minute bidding battle pushed the price higher and higher as it almost doubled its $60m estimate.
Eventually the bidding war was won by Yusaku Maezawa, a Japanese entrepreneur and art collector. The hammer price of $110,487,500 (£85 million) is the highest ever paid for a post-1980 work, the highest ever paid for a work by an American, and the sixth-highest ever paid for any artwork at auction. 
The winning bidder plans to make the painting the centrepiece of a new museum – a great relief to fans of the artist, considering that the work has been under wraps since it was last sold in May 1984 for $19,000.
"When I saw this painting, I was struck with so much excitement and gratitude for my love of art," said Mr Maezawa, who added that he will send the painting out on display around the world until his museum in Chiba is built.
"I want to share that experience with as many people as possible around the world – regardless of age or background or whether they are a collector or not…
"I hope it brings as much joy to others as it does to me, and that this masterpiece by the 21-year-old Basquiat inspires our future generations."
Who was Jean-Michel Basquiat?
The New York artist was born in Brooklyn 1960, and developed a love of art profoundly influenced by the likes of Andy Warhol – a love of which he initially expressed in spray paintings around New York City during the mid-1970s.
In 1980 he was still selling sketches for $50 apiece, but by 1982 – when he created the painting sold on Thursday night – he was beginning to make a name for himself almost unknown.
His reputation grew, however, and he became a leading light of the 1980s until his untimely death from a heroin overdose in 1988. He was just 27.
To view the original version of this post please click here.
The post Jean-Michel Basquiat painting goes under hammer for $110.5 million appeared first on Luxury Leather Gifts.

Source: Luxury Leather