Watch the video and see Paul being interviewed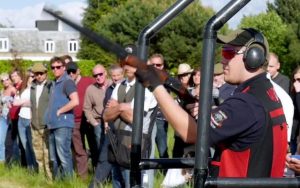 After a thrilling 30 target Super Final Paul Simpson from Lawshall won the 2017 English Open English Sporting on 14th May, beating Philip Thorold.
A late rally from Thorrold saw him drop one target through the first seven on the final stand and it looked as though things were heading for a shoot off. However he missed the crucial eighth target, dashing his hopes of victory and finished on 134.
A tense moment
Describing the closing stages Paul said: "I threw caution to the wind; I was frustrated missing the first pair and knew I had to get it together. I refocused and thankfully managed to score eight out of ten. It was a tense moment watching Philip shoot as he finished really strongly, but luckily I just did enough."
A former winner
Paul previously won the trophy in 2005 and commented: "It's nice to have my hands back on it – this was the very first big Championship I won and I'm delighted to have won it this year. I really enjoyed the competition; I honestly came here with no real hopes of shooting well and ended up with the trophy!"
Clay Pigeon Shooting Association (CPSA) Chief Executive Nick Fellows commented: "Simon Smith and his team have done a fantastic job hosting the English Open at Highwaymans Shooting Ground and many congratulations to Paul Simpson on taking the title."
"The great thing about the competition is that all week people have been round and said that they really enjoyed their day's shooting, regardless of how well they shot and we've had really good feedback from our members about it."
"Finally, we'd like to say 'thank you' to our sponsors, Perazzi, Eley, Promatic and Starkey Headsets, it's been great to get their support, and we look forward to returning to Highwaymans Shooting Ground in the near future."
The post Paul Simpson wins 2017 English Open English Sporting in thrilling final appeared first on Luxury Leather Gifts.

Source: Luxury Leather