"I have never owned a semi-automatic shotgun before, but I am thinking of buying one for the voluntary keepering jobs I do on our syndicate shoot. 
I want something which is not too heavy and, above all things, reliable." Ian McIver, Edinburgh
• Max price: £750. • Main purpose: Vermin shooting and a few club clays. 
• Preferred make: Something Italian, but I don't really mind where it's made.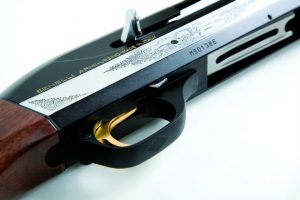 Mike George advises on buying second-hand semi-auto shotguns
Over the years the Italians have made some super semi-autos. In the 1970s, Franchi autos were a great favourite among pigeon shooters while some of the Berettas from the 1980s – notably the A302 and the A303 – were legendary for their toughness, good handling, and long life. In fact, a lightly-used A303 is still worth buying, even if it may be over 30 years old.
Then, during the 80s, we went through a phase when Franchi spares were pretty well unobtainable – in fact I lost count of the number of times readers phoned Sporting Gun asking if we knew where to obtain simple things such as firing pins, springs and extractor claws. All that changed when Franchi was taken over by Beretta, and now its guns – both semi-auto and break-action 
– can be recommended with confidence.
Why a semi-auto shogun?
I can understand why Ian wants a semi-auto. It's the ideal tool for his keepering duties, quite up to shooting crows, magpies and whatever else may be causing trouble on his syndicate's shoot. I know some shooters don't like them and rate them as being unreliable, but they're not if you find a cartridge they will cycle without hang-ups, and you keep them clean. Generally, they seem to prefer cartridges loaded in full-length 70mm (2¾in) cases. And the cleanliness thing? Well, that's why my first choice is not a Beretta or a Franchi, but a gun that works on a totally different principle.
Most semi-autos work on the gas-fed principle, in which high-pressure gas is tapped off the barrel through a port underneath the fore-end from where it is fed into a cylinder fitted with a piston. As the shot load and wad goes past the port, a pulse of high-pressure gas forces the piston back. The piston is connected to the bolt, which is forced back against a spring. As it moves back the spent cartridge case is ejected. Then the spring pushes the bolt forward again, and at the same time a fresh cartridge is lifted from the magazine tube. The advancing bolt chambers the fresh cartridge, and the gun is ready to fire again.
It's a reliable system – providing the piston and port is cleaned regularly and carbon deposits are removed.
The design of the gun I am going to recommend does away with the port and piston, so the mechanism stays cleaner for longer.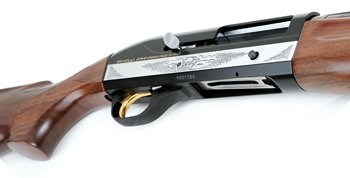 Benelli Montefeltro
The Benelli semi-auto relies on the inertia produced by recoil to cycle the bolt. It's one of only three brands currently on the market that utilises the system (the others are a Franchi and the new Browning Auto 5). It works reliably and, as I have said, without producing a lot of muck. In addition, because there is no cylinder and piston surrounding the magazine tube, the fore-end can be slimmer.
I also like the way in which the bolt locks forward before a shot is fired. The bolt on a lot of semi-autos locks with a square, retractable peg engaging with a square hole in a rearward extension of the barrel. The Benelli doesn't have this feature, instead the bolt has lugs on its front face which turn and lock rather like the lugs on a good rifle – or like a Kalishnikov AK-series assault rifle, as the Benelli importers are probably fed up with me saying.
So, which model of Benelli? There are a lot of different guns, and over the years I have fired a lot of them, but the one I'd go for is the Montefeltro. It impressed gunsmith Jason Harris when he tested it for this magazine in July 2007, and now – 10 years later – it is still in production.
What's a good example worth? Well, a new one costs around £1,300 – maybe less if the dealer you go to is offering a discount – and you can get a cracking second-hand example for under £700.
The Montefeltro's is made from a lightweight aluminium alloy, and this, coupled with its mechanical simplicity, keeps the gun's weight down to just over 7lb, so carrying it for several hours at a time shouldn't tire Ian as he performs his keepering duties.
One tiny thing I don't like about the gun is that early versions had a bright-polished panel along the sides of the receiver, which isn't good if concealment is important – say in a hide. I'm glad to see that the receivers on current models are plain black. SG
Franchi Affinity
My second choice is one of the other semi-autos that works on the inertia system, and the price of a new gun is so reasonable that Ian could buy a new one and still stay within his budget. It is the Franchi Affinity, and the importer's recommended retail price for the basic model is £640, so you can bet that most dealers will be selling them for less than £600.
At the time of writing there was a super second-hand gun for sale at £475, so a gun of that price would allow Ian to stock up with over £250-worth of cartridges and still remain within his budget.
And just in case anyone is still concerned about the availability of Franchi spares, note that the company, like Benelli, is now part of the Beretta empire and that Beretta, Benelli and Franchi guns are all imported by GMK of Fareham, Hampshire – a long-established and stable company.
It has to be admitted that the Affinity is not the world's most elegant gun, but on the plus side it is reliable and has a bigger bolt handle than most autos, so loading and unloading should be easy, even when wearing gloves. All things considered, the gun is great value-for-money.
Hatsan Escort Magnum
The Hatsan Escort is about the best of the budget-priced Turkish semi-autos available in the UK at the moment, so why would I pick the Magnum model? It isn't the cheapest of the Escort variations, but it does have the proven ability to handle 76mm (3in) cartridges, and it has gained a tough reputation with British shooters in recent years.
Unlike the other two guns, the Hatsan is gas-operated, and its reputation for taming the recoil of powerful cartridges would be useful if Ian had to take on a fox at short range. It's also available with an extended magazine tube, should he wish to hold it on a Firearms Certificate.
As with the Franchi, Ian would not have to use all of his budget, even if he chose to buy a new one for the current asking price of under £500.
In addition to the Magnum, the Escort comes in many different forms – around a dozen in all – so the choice of models is good.
In the market for a 
second-hand gun?
Send us your buyer's brief by emailing sportinggun@timeinc.com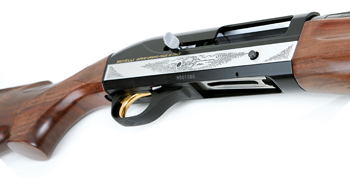 We take a look at one of the lightest semi-automatic shotguns in its class – the Benelli Montefeltro.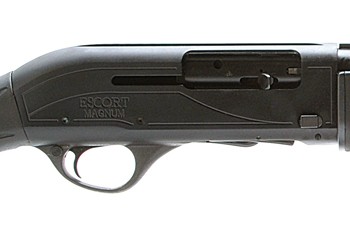 The Hatsan Escort semi-auto shotgun is a Turkish-built semi automatic that creates a stir on price alone

Although not one of the names you might first think of when considering mass-market gunmakers, Franchi has had a presence…
The post Second-hand super semi-auto shotguns appeared first on Luxury Leather Gifts.

Source: Luxury Leather