Few houses can boast hundreds of years of history and a sparkling future.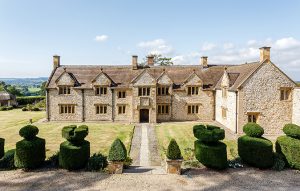 The Exeter office of Strutt & Parker (01392 215631) is handling the sale—at a guide price of £2.25m—of the impeccably restored, Grade II*-listed Wyld Court, which stands in some 17 acres of formal gardens, pasture and woodland on the edge of the charming village of Hawkchurch, four miles from Axminster, Devon. According to Pevsner, Wyld Court dates from about 1600, although there has been a house on the site since medieval times, when it was owned by Cerne Abbey.
Originally an 'E-plan' Elizabethan manor built in 1593, the house now resembles the letter 'F', the result of the destruction of the west wing by Cromwell's soldiers in their search for Charles II, who reputedly stayed at Wyld Court before fleeing to France in 1651, following his defeat at the battle of Worcester, the last encounter of the English Civil War. The manor also incorporates a Victorian stone extension from about 1860, which some say involved the participation of the young Thomas Hardy, who was apprenticed as an architect in the area, before embarking on his literary career.
Meticulously restored by its last owner, who bought it in a state of 'faded glory' in 2005, Wyld Court has more than 8,000sq ft of living space, with five reception rooms, including the Tudor great hall, a light-filled garden room, two kitchens, a grand master suite and six bedrooms (including the King's Bedroom), all with en-suite bathrooms.
The present owners, Alan Craske and Wendy Binder, bought the manor in 2014 with a view to setting up a substantial holiday-let business on the back of planning consent granted for the conversion of a range of former farm buildings and stables. However, common sense kicked in when they realised the extent of the commitment involved. 'We love the house to bits and we love the village of Hawkchurch, but we gradually realised that it would take a good five years to get the business up and running, by which time, we would be approaching our seventies and probably looking to retire. We fully intend to keep a weekend cottage in the area.'
** Search more gorgeous properties for sale in Devon
To view the original version of this post please click here.
The post The Elizabethan manor that offered refuge to Charles II as he fled to France appeared first on Luxury Leather Gifts.
Source: Luxury Leather