The four-poster is being reinvented for the 21st century, says Amelia Thorpe.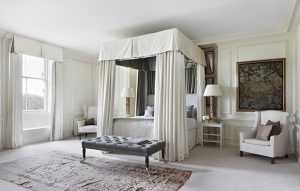 The four-poster might be burdened by its associations with slapstick period dramas (Carry On Henry, Blackadder et al), but it's being reinvented to create a look that's more relevant to the 21st century than the 16th. In their medieval incarnation, the curtains around four-posters were intended to act as insulation, but even with the advent of central heating, they're prized for their cosseting qualities.
'In a large bedroom with a high ceiling, a four-poster bed with silk drapes creates a "room within a room", offering a sense of cocooning comfort,' says the interior designer Henriette von Stockhausen of VSP Interiors (020–8995 6684; www.vspinteriors.com), who designed this scheme for a Grade I-listed country house in Buckinghamshire. The secret, she believes, is to modernise the look by choosing plain fabrics: 'Here, the ivory-silk outer curtains suggest contemporary simplicity and the dark-grey inner ones enhance the enveloping effect.'
However, the drama isn't just about scale—for those who love the look and feel of luxurious fabrics, four-posters are an invitation to indulge themselves. 'Elaborate drapes were the highpoint of the whole ensemble,' says Peter Russell of Stuart Interiors (01935 826659; www.stuartinteriors.com), the specialist in period furniture, doors, staircases and panelling. 'Sometimes, they could cost 10 times more than the bed itself.'
Like anything swathed in fabric, a four-poster will also absorb external sound, creating a hushed atmosphere that's ideal for any bedroom sanctuary.
Keraton carved bed, from £1,995 for a king-size
Lombok (www.lombok.co.uk; 020–7736 5171)
---
Goldsborough king-size bed in Ebony, £5,490
TurnPost (01937 572570; www.turnpost.co.uk)
---
Tuvalu king-size bed and mattress, £2,590
OKA (0844 815 7380; www.oka.com)
---
Hoxton bed, from £6,725 for a king-size
And So To Bed (www.andsotobed.co.uk; 0808 144 4343)
---
Sassy Boo Majestic bed, from £1,299 for a king-size
The French Bedroom Company (01444 415430; www.frenchbedroomcompany.co.uk)
---
Mayfair super-king-size bed, £4,796
Simon Horn (020–7731 3555; www.simonhorn.com)
To view the original version of this post please click here.
The post The four-poster bed revival (and the best beds to create that indulgent atmosphere) appeared first on Luxury Leather Gifts.
Source: Luxury Leather