Guide dogs are often spotted out and about confidently supporting their owners with sight loss, but the work that goes into training a life-changing canine is immense. Hayley Price of the charity Guide Dogs explains.
Birth
Most guide dogs are born in the home of dedicated volunteers. They stay in their both homes until they're six weeks old, at which point the pups – most commonly labradors, golden retrievers, labradoodles or German Shepherds – go to Guide Dogs National Breeding Centre (NBC) in Warwickshire. They spend a week there, along with their brothers and sisters, and it's where they begin their journey to becoming a life-changer.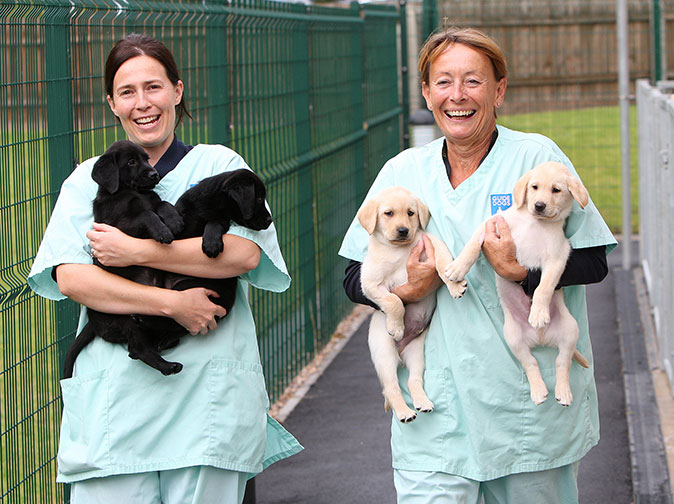 The First Test
At the National Breeding Centre the pups gain their first experiences of the world around them – and also undergo a Puppy Profiling Assessment. It's series of special exercises which looks at the temperament of the pups and monitors things like awareness, perception and concentration – they might be required to follow a handler, for example, or retrieve a toy or run through a small tunnel. When taking part the pups demonstrate different traits, for example, confidence, use of initiative.
Invariably, the puppies pass. A tiny number – around 30 a year of the 1,500 or so dogs which pass through the centre – are classified as 'high level introverts'. The lives of those few head off in a different direction; the remainder are categorised and given training goals depending on their individual traits as they leave the centre to be placed with Guide Dogs' volunteer puppy walkers.
Life with the puppy walker
The Guide Dogs' puppy walkers are all volunteers who take one of the trainee pups into their homes for a year. With guidance from a qualified Puppy Training Supervisor they socialise the pups in that time, ensuring they experience lots of sights and sounds as well as teaching them basic obedience and best behaviour – such as not chasing birds – so that they're readied for life as a working guide dog.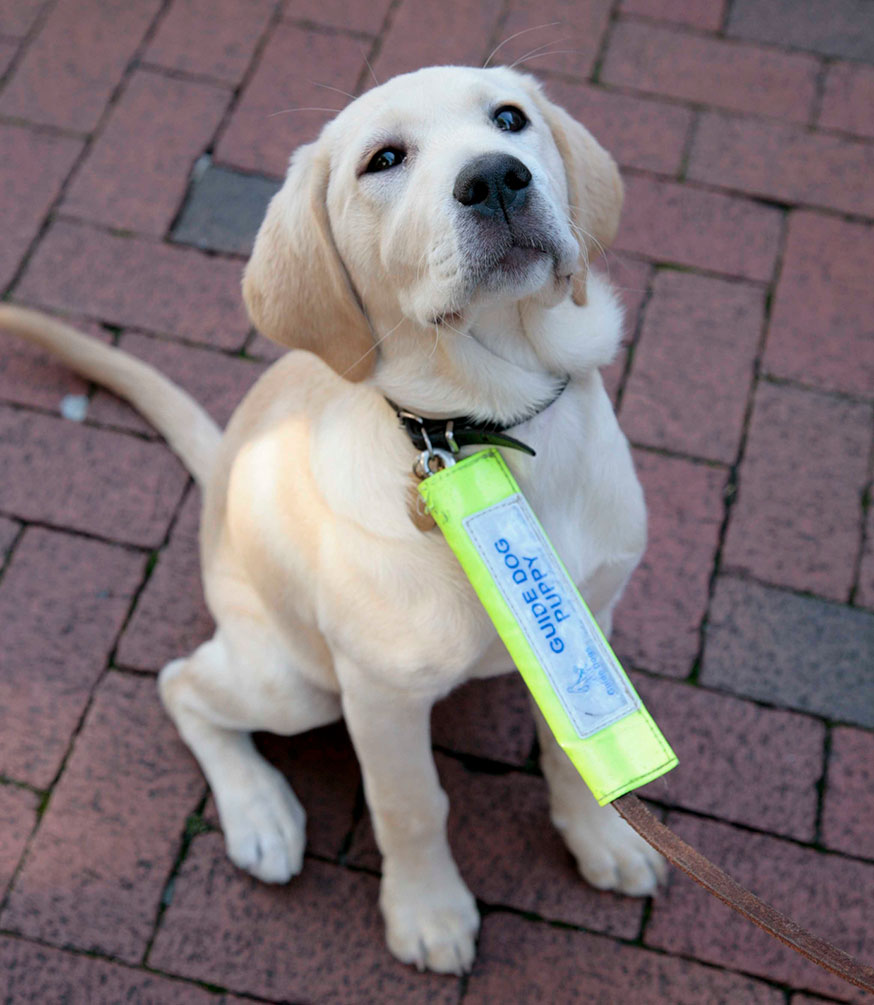 The National Training School
On leaving the puppy walkers aged 14 months, the dogs enter 'trainee' phase and enrol in one of four national training schools. It's a big step up, akin to the transition from nursery to primary school. Guide Dog Trainers work with the dogs for around 19 weeks, helping them develop basic guiding skills, for example, dealing with kerbs and avoiding obstacles.
While the dogs are at the training school they generally live with one of the volunteer boarders, people who look after trainee guide dogs, guide dogs and former guide dogs in their own homes. Those volunteers bring the dog to training each morning and take it home again each evening. They also look after the dog at weekends and over bank holidays. It's more than just a place to eat and sleep, however: dogs living with a boarder learn better and make the transition into home life with their new guide dog owner more easily.
Guide dog secondary school
Next it's on to secondary school: the dogs leave the training centre and complete the second stage of training at one of 20 local mobility teams spread across the UK. Guide Dog Mobility Instructors work with the dogs for around 12 weeks helping them apply their guiding skills to everyday situations.
At this point, when fully trained and suitable to work as a guide dog, their individual personalities are taken into consideration and the instructor matches them with a person they think they'll be compatible with.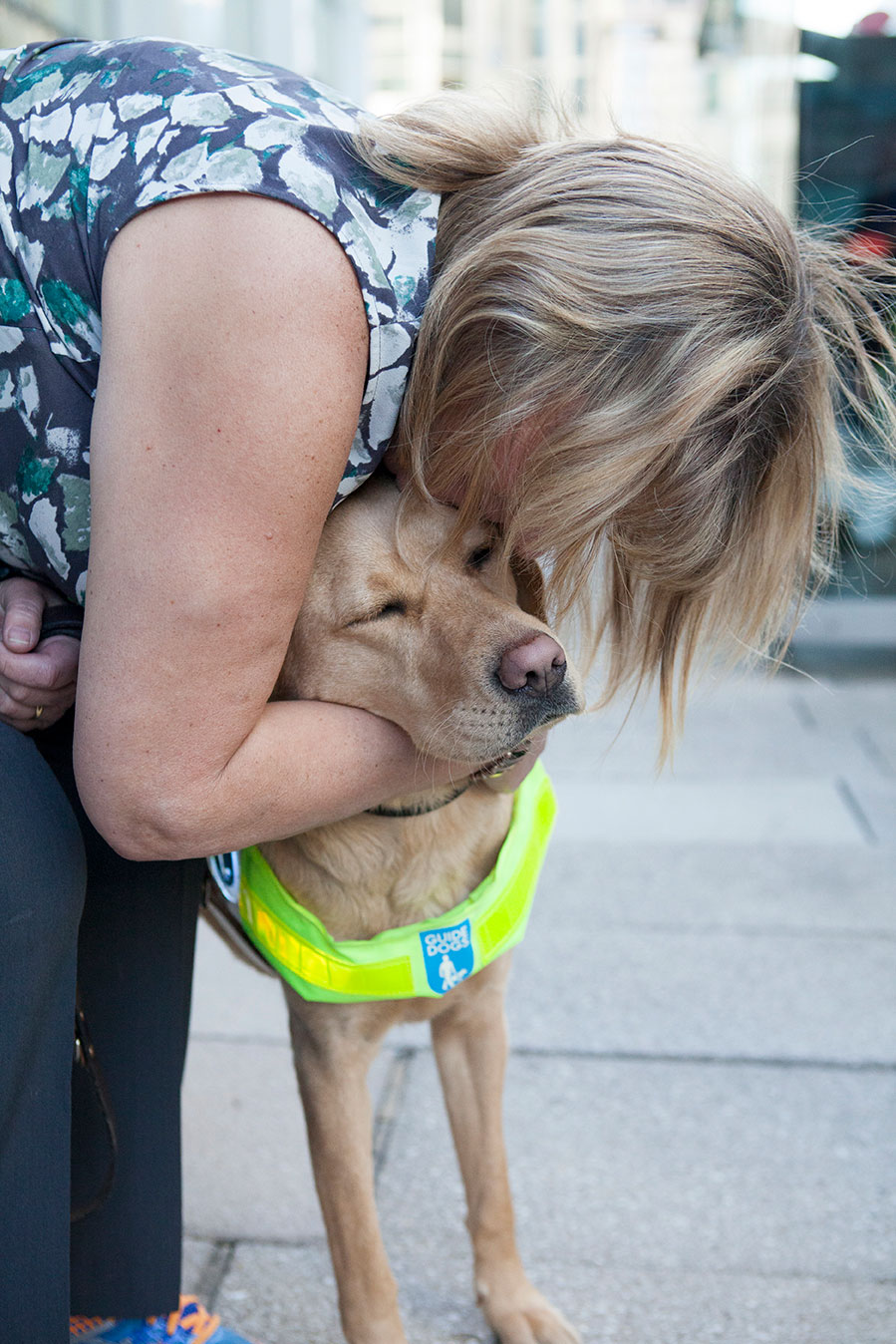 Graduation, for owner and dog alike
The dog-to-owner matching process can take some time as many factors are taken into consideration: character, temperament, lifestyle and environment. Once a successful match is found, guide dog and soon-to-be owner spend five weeks working with an instructor who trains the pair together and helps them get to know each other.
After that, they're finished – there are no doggy mortar boards to throw into the air, but the pups and their owners have now graduated and begin the start of their life together.
Retirement
As with people, the working life of a guide dog ends with retirement – generally, it comes after six or seven years' service. When this time comes they are assured a retirement home for life, either with their owner or another dedicated family.
There is no upper or minimum age for guide dog ownership and those living with sight loss can have as many as eight guide dogs in their lifetime. It costs just under £55,000 to support a guide dog from birth to retirement. For those who are given their lives back by this fabulous scheme, it's worth every penny and then some.
To find out just how life-changing guide dogs are check out some of the guide dog partnership stories nominated for this year's Guide Dog Annual Awards, taking place on 17 May at the Hurlingham Club, London. See www.guidedogs.org.uk/awards for more details.
To view the original version of this post please click here.
The post The seven stages of life for a guide dog, from puppy to retiree appeared first on Luxury Leather Gifts.

Source: Luxury Leather