The best in the shooting industry gathered for the annual Shooting Industry Awards on Thursday 11th May. After 172 entries, judges whittled it down to 63 finalists and the 15 winners were announced at the Mercure Brandon Hall in Coventry.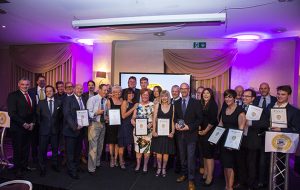 This year's judging panel was a mix of our highly respected editors as well as experts from the world of shooting. The 2017 judges were Shooting Gazette editor Will Hetherington, Shooting Times editor Patrick Galbraith, Sporting Gun editor Matt Clark, The Field deputy editor Alexandra Henton, ShootingUK editor Charlotte Peters and editor-at-large Robin Scott. We also invited gamekeeper Liam Bell, game shooter John Walker and gunsmith Shane Robinson to join the panel as external judges.
Hazel Eccles, managing director of the fieldsports group at Time Inc, said: "The awards showcase the very best in the shooting industry. With so many entries, it is clear that shooting is bursting with innovative people and products. I am delighted that the 2017 Time Inc. Shooting Awards were a real success – well done to all our finalists and winners".
The awards evening was streamed live on Facebook and you can catch up on the video here.
The Winners
New Clothing Product – Swazi for Tahr XP
New Ladies Clothing Product – OJT Designs for Olivia Jacket
New Footwear Product – Fairfax & Favor for The Imperial Explorer
Best Game Cartridge – Eley Hawk for Zenith Copper Game Shot
Best Clay Cartridge- Hull Cartridge Company Ltd for Sporting 100
Best Rifle Cartridge – RUAG for Norma .243 VMAX 75g
New Gundog Product – Lintran K9 Ltd for Lintran Gap Flap
New Scope Product – Swarovski for Z8i 1.7-13.3 x 42 4A-IF
New Binocular – RUAG for Kahles Helia Binoculars10x42
New Shooting Accessory – Viking Arms for Leupold LTO Thermal
Best Website – John Rigby & Co
Best UK Gun Shop – Sportarm
Best Shooting Ground – E.J. Churchill
New Rifle – Webley & Scott Xocet Rimfire Rifle
New Shotgun – Blaser F16
Highly Commended
New Footwear Product – Le Chameau for Condor LCX
New Scope Product – Leica for Magnus I riflescopes
New Binocular – Leica for Noctivid Binocular
Best UK Gun Shop – Emmett and Stone
Best Shooting Ground – Oxford Gun Company
New Shotgun – Atkin, Grant and Lang for Stephan Grant Round Action O/U
The post Winners of Shooting Industry Awards 2017 announced appeared first on Luxury Leather Gifts.

Source: Luxury Leather